TForce Freight reserves the right to suspend our freezable protection service when temperatures are forecasted to reach and fall below 10 degrees Fahrenheit. The following map from the National Weather Service provides the forecasted low temperatures for the next 24 hours. TForce Freight has suspended pickups and deliveries for our Freezable Protection service for any areas forecasted to have temperatures at or below 10 degrees Fahrenheit. TForce Freight will make all reasonable efforts to protect any freezable protection shipment currently in transit destined to these areas for delivery.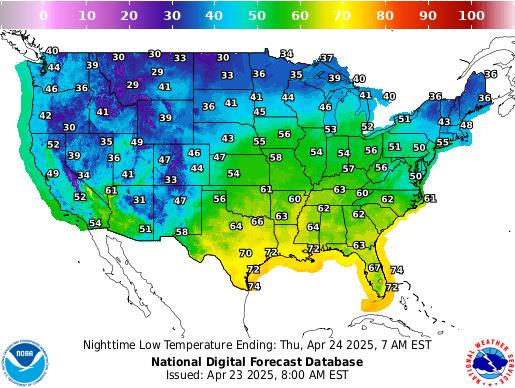 The above map is from the National Weather Service and is not subject to copyright protection.
Customers in Canada
To determine the forecasted temperature, in Celsius, for Canada, please visit the Weather section of the
Canada Environment web site. Please note freezable protection service will be suspended when low temperatures are forecasted to reach or fall below minus 12 degrees Celsius.
Temperature Controlled Service
TForce Freight's temperature controlled service, utilizing temperature regulated equipment to maintain a set temperature range during transportation, may be available in areas where freezable protection service has been suspended.
For more information, call (800)644-0900 and select option 2.
Please note that TForce Freight will not be liable for any freezable protection shipment tendered to us destined to suspended areas during a service suspension. Please see the current Rules Tariff for all terms and conditions relating to freezable protection service.