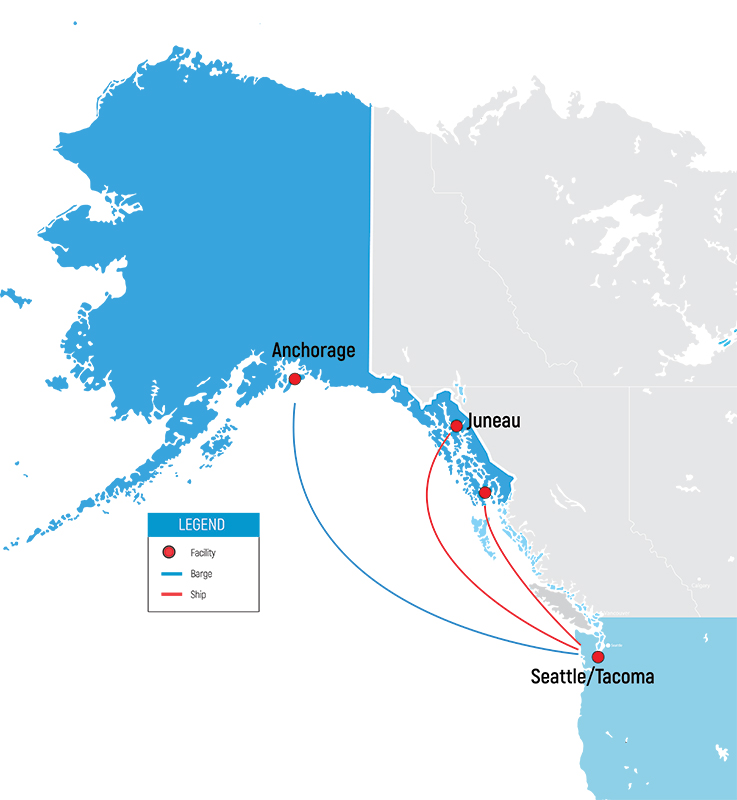 Service
Direct service to and from more than 99% of Alaska's population
Freight service for Alaska can be originated or consigned to any TForce Freight service point in the U.S., Canada, Mexico or Puerto Rico
Shipping Details
Alaska Delivery
Upon arrival at port, freight moves to its final destination via truck or ferry.
Documentation
No special documentation is required. Freight moves on a standard bill of lading.
Simple Invoicing
All freight charges appear on a single, simplified invoice.
Rating Information
Alaska rates are based on two components:
Travel to/from points in the US48, Canada & Mexico to the Alaskan consolidation point in Kent, WA 98032: Utilize the applicable UPGF 525, 560, 570 or 580 rating tariffs or your negotiated LTL rate
Travel to/from the consolidation point to points in Alaska: Refer to the UPGF 105 tariff, section 4 for rates. Rates to/from Alaska utilize a class-based structure to determine the applicable rate per hundredweight.
For more information or to obtain a rate to or from Alaska, call (800)333-7400.
Please refer to UPGF 105 tarifffor applicable offshore rates, rules and charges.